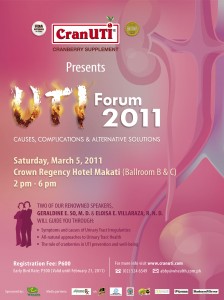 Come and join us on Saturday March 5, 2011 at the Crown Regency Hotel Makati City for the first ever UTI FORUM 2011: Causes, Complications and Alternative Solutions.
This lively discussion will cover topics related to urinary tract health and wellness in an entertaining and informative format tailored for busy professionals, concerned mothers and mature women.
Registration fee is P600 (includes refreshments and goodie bags) with early bird rate of P500 for registrations made by February 21, 2011. Special discounts for students available upon request.
Hosted by one of the Philippines' foremost health writers and registered nutritionist-dietitian Joan Sumpio, the Forum will present two renowned speakers Geraldine So, M. D. and Eloisa Villaraza, R. N. D. who will share their expertise and knowledge concerning different approaches in UTI prevention and medical nutrition therapy of UTI.
The UTI Forum 2011 is presented by Whealth Inc. and CranUTI Cranberry Supplement, an all-natural alternative to preventing UTI. The event is in partnership with Generation RX on Studio 23, Total Fitness Magazine, Zen Health, Business Mirror and Doc On TV (UNTV 37).
The UTI Forum 2011 is part of Whealth Inc.'s mission to provide consumer education about the benefits of all-natural nutrition and healthy lifestyle.
To register or for more information, email: abby@whealth.com.ph or call (02) 524 6549 or send SMS to 0922 209 2387, 0919 826 5897.